Winery urban winery Wine Drinking Chinatown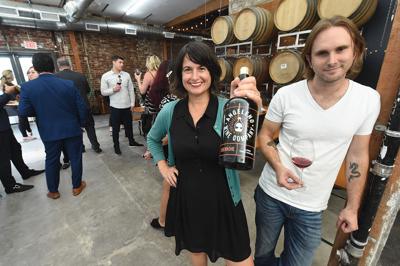 Amy Luftig Viste and Jasper Dickson found the Chinatown location for Angeleno Wine Co. in late 2017. Last year they moved production to the space. 
photo by Gary Leonard
Drive north on Spring Street out of the Civic Center, pass Olvera Street, traverse the eastern edge of Los Angeles State Historic Park, and you'll see a 94-year-old brick building. On the outside of the single-story structure is a mural of Tupac Shakur with angel wings. On the inside, wine is being produced, bottled and poured.
It comes from the Angeleno Wine Company, the first winery to open in city limits in 102 years. The operators began producing various vintages on site last year, and on July 13 a 1,500-square-foot tasting room opened in the facility at 1646 N. Spring St. Visitors sit at tables next to aging barrels and a large tank inside the 1925 building.
The tasting room opens at noon every Saturday and Sunday (and by appointment during the week). The winery, run by Jasper Dickson and Amy Luftig Viste, produces wines made mostly with Spanish varietal grapes — tannat, albariño and others.
Most of the grapes are sourced from a vineyard near Agua Dulce, though the entire production process takes place in the Downtown Los Angeles facility. In the last 12 months the winery produced 2,000 cases of wine. Angeleno Wine Company expects to boost that to 2,500 cases this year.
"We feel right at home," Dickson said during a recent tour of the facility. "L.A. is the biggest wine market in the country and people are so enthusiastic about wine and supporting local businesses, and wanting to drink local. They love the idea that they can come to a place and taste wine that was made where they're standing and was made from local grapes."
The duo started the winery in 2015, and made small batches out of a friend's business, DeRose Winery, in Northern California. They secured a small business loan from the Los Angeles County Development Commission and found the Spring Street space in late 2017. At the time it was empty, with only an aged piano as decoration. The piano remains, and is now complemented by everything needed for a wine production and serving facility.
Although breweries and distilleries are a growing industry in Los Angeles, and particularly in Downtown, wineries haven't taken off. The lone exception is San Antonio Winery, a Lincoln Heights business that started in 1917. It has operated ever since and has an on-site restaurant.
Dickson and Luftig Viste point to Los Angeles' past heyday in wine production. That goes back to 1833, when Jean-Louis Vignes started making wine in the area around what is now Union Station. Dickson said that an early seal for the City of Los Angeles prominently featured a grape vine.
Vineyards filled Downtown and other nearby areas until the early 20th century, Luftig Viste said, when a combination of vine disease, Prohibition and the rapid urbanization of Downtown left the wine industry all but dead, with San Antonio Winery one of the few survivors. Although other alcohol makers have flocked to the Downtown area in recent years, urban winemaking has not.
"I don't know why we're the first to do this in a long time, but we hope there are many more after us. San Diego, San Francisco, Seattle, Austin, they all have urban wineries," Dickson said. "L.A. just deserves it. It's part of our heritage."
Drinking Locally