Wine Winery okanagan Commerce Company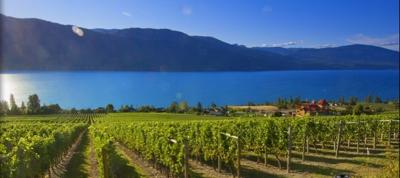 Operators of Gray Monk Winery in Lake Country, the vineyards of which are shown here, hope to win town council approval to convert an on-farm home to overnight use by winery guests.
Gray Monk
An Okanagan winery aims to provide a place to sleep for some of its best customers.
The operators of Gray Monk Winery hope to convert a house owned by one of the business's original owners into overnight accommodation for special guests.
"The intent is to provide an interactive educational opportunity for guests to experience at the winery, to see how grapes are grown and managed, and to see farm techniques in action," Birte Decloux, an agent for Gray Monk, writes in a report to town staff.
"It is anticipated that a week-long stay would be required to take in the entire winery experience," Decloux says.
Town staff will recommend at a meeting Tuesday that Lake Country council begin the necessary rezoning for the property, at 1201 Camp Rd., from agriculture to agri-tourism accommodation.
"The proposal is in line with the vision for agri-tourism as an accessory use on actively farmed agricultural lands and will provide an educational experience for tourists to learn about the industry in the Okanagan," staff write in their report to council.
The four-bedroom lakeview home could be occupied by two groups of visitors, all of whom must be members of Gray Monk's exclusive Wine Club, between April and November. Members pay about $500 a year to receive advance shipments of Gray Monk's premium wines.
Gray Monk was established by the Heiss family, pioneers in the development of the Okanagan's estate wine industry. The business was sold in 2017 to Andrew Peller Limited, an Ontario company that at the time also bought two other Okanagan wineries, Black Hills and Tinhorn Creek, both near Oliver, for a combined purchase price of $95 million.
"With our investment and resources, these wines have the potential to grow, develop and compete in the growing luxury wine market around the world," the company's chief executive officer, John Peller, said at the time.
Tags
,
mesothelioma
,
wine