Wine En mission hill family estate ben bryant hester creek estate winery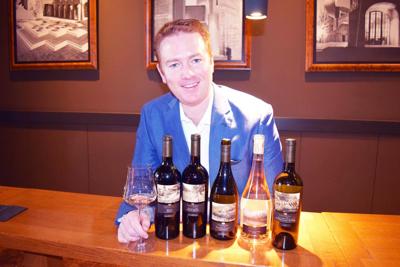 Mission Hill Family Estate chief winemaker Ben Bryant has crafted a dozen new-release wines ideal for sipping over this Easter long weekend.
Oh, Easter.
It's that miraculous and glorious time of year Jesus Christ rose from the dead and Okanagan wineries launch spring-release wines.
This, of course, isn't the first time the son of God has been linked to the vinous world.
Remember, over 2,000 years ago, Jesus turned water into wine at the Wedding of Cana to prove he was one heck of a miracle maker.
However, Easter 2020 is definitely going to be marred by the COVID-19 crisis.
After all, you can't get together with extended family and friends to celebrate, travel is a no-go and uncertainty abounds.
Ben Bryant, chief winemaker at Mission Hill Family Estate in West Kelowna, is seeing somewhat of a silver lining.
"As we continue to navigate through these challenging times, this collection of wines I have compiled is a great way for us to stay in touch and share some of our recent releases," he said.
"This is now my second vintage in the Okanagan (he was previously with Jacob's Creek, Australia's largest wine brand) and I continue to acknowledge that I am very fortunate to hold the position I do in this Valley that has so much to offer the world of fine wine."
Bryan'ts curated collection is a dozen wines, all new releases, that can be welcomed to the Easter dinner table regardless of whether you're serving turkey, ham, lamb, fish or vegetarian.
It includes the first 2019 vintage whites and a Rose, a pair of 2018 Chardonnays and some 2017 and 2018 reds.
The release of 2019 whites and Rose is a milestone because it's the first we're seeing, and tasting, of the vintage.
The grapes to make these wines were harvested in the fall of 2019, fermented and aged a short while, fully or partially, in stainless steel tanks, concrete vessels and-or oak barrels before being bottled and released in the spring as the newest and freshest bottles in the portfolio.
The new-release Chardonnays and reds are from 2017 and 2018 because they spend longer aging in stainless steel, concrete and-or oak barrels.
And just to throw you off, the new-release Mission Hill Estate Reserve Sparkling Brut ($24) is N/V or non-vintage, meaning the Chardonnay (90%) and Pinot Noir (10%) juice is from grapes that may have been harvested in multiple years.
Non-vintage is common practice for sparkling and Champagne producers because it ensures quality, consistency and complexity.
The Mission Hill bubbly, with aromas and flavours of effervescent apple, peach and lime, is a multi-tasker that can be called upon to toast Easter, sipped on its own in the sunshine or paired with Easter turkey-or-ham dinner.
*****
Rose may very well be the perfect Easter wine.
It's pink colour and lively freshness heralds spring and makes it the perfect drink for that first glass of wine outdoors on the patio or deck.
But it's also welcome at the dinner table as a delicate enough to pair with turkey or robust enough a match for ham or lamb.
Mission Hill's 2019 Estate Reserve Rose ($22), a blend of Merlot, Syrah and Pinot Noir, is crisp and vibrant with aromas and flavours of watermelon, raspberry and strawberry.
Hester Creek Winery in Oliver made its 2019 Rose ($18) with Cabernet Franc grapes to create a medium-bodied beauty with a sweet-tart profile of strawberry and rhubarb.
Until the end of the month, Hester Creek is urging you to enter its spring photo contest to win a prize package worth $250.
Snap a pic of any scene featuring a Hester Creek wine and post it to your Instagram or Facebook with the hashtag #SpringWithHester.
Terrafina Restaurant at Hester Creek can't welcome dine-in guests under pandemic closure rules.
However, you can order Easter dinner from Terrafina for pick up Sunday.
The meal is $79 for two or $150 for four and includes salad, hot-cross buns, mashed potatoes and yams, carrots and peas, glazed ham and tiramisu for dessert.
*****