food Alcohol tyler dyck Gin Whisky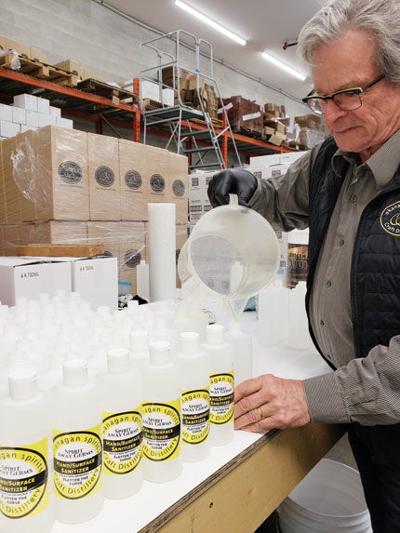 Okanagan Spirits founder Tony Dyck fills up bottles of hand sanitizer made with alcohol distilled at operations in Vernon and Kelowna to fight the spread of COVID-19.
Special to The Daily Courier
Rather than distilling its usual whisky, gin and liqueurs right now, Okanagan Spirits is pumping out COVID-fighting hand sanitizer 24-7.
"It's the right thing to do in these times," said Tyler Dyck of Okanagan Spirits, which has distilleries, stores and tasting rooms in Vernon and Kelowna.
"Since we are distillers, we love to make alcohol. We would much prefer to put this alcohol into barrels and make world-class whiskies and gins, but we've decided, for now, to do battle against COVID-19."
Hand sanitizer is made of 70% denaturated alcohol, so it's no longer drinkable, with some hydrogen peroxide.
Alcohol is effective at killing germs, and hydrogen peroxide is an antiseptic.
With everyone washing their hands and surfaces as a way to stop the spread of the virus, stores have sold out of hand sanitizer.
Dyck first heard of U.S. distilleries switching production to sanitizer a couple of weeks ago, and Okanagan Spirits followed suit last week.
The first 1,000 bottles, ranging in size from 50 millilitres to one litre, were distributed to care homes, homeless and women's shelters, and to front-line medical, ambulance, firefighter and police workers.
Starting Wednesday, up to 4,000 more bottles of various sizes will be filled and distribution to the public will begin.
"We don't want people hoarding hand sanitizer and this turning into a toilet paper shortage situation," said Dyck.
"We ask that if you need hand sanitizer to stay healthy for work or visiting your elderly you follow our Facebook and Instagram for where and when it will be available. If you are healthy and can pick up 10 or 15 bottles at a time to give out to co-workers, family, friends and neighbours, that would be great so we don't have crowds showing up for pickup, creating a social distancing problem."
All of the sanitizer is free.
"We're not doing this to monetize the situation," said Dyck. "We're doing this to help.
"Initially, we thought of taking a donation and passing it on to charity. But with concerns about handling money we decided to simply take a 'pay it forward' approach. If someone can use our sanitizer, we just ask that they be nice to someone else in this crisis or donate or volunteer at a food bank, homeless or women's shelter."
Okanagan Spirits will likely set up tents outside its locations at 5204 24th St. in Vernon and 267 Bernard Ave. in Kelowna to distribute the sanitizer on Wednesday.
Dyck believes that's the best way to keep social distance between staff and the public.
Okanagan Spirits has dedicated three of its distillation stills and three distillers in Vernon and Kelowna to make the alcohol from local fruits and grains.
Five Dyck family members are working on the initiative, as are six employees in Vernon and four in Kelowna.
Some Okanagan Spirits sales representatives are delivering sanitizer to care homes and first responders.
Okanagan Spirits has also launched the #localheros hashtag in tribute to the front-line workers who are keeping people safe and cared for during the novel coronavirus pandemic and to its partners in providing free hand and surface sanitizer.
Besides the alcohol Okanagan Spirits is making, it's also getting some from winemaker Peller Estates.
The plastic bottles with spray tops come from Universal Packaging, Univar Solutions provides the hydrogen peroxide, and Speedpro Signs Vernon and Wayside Press made the labels.
The label has the Okanagan Spirits logo, identifies the product as 70% alcohol hand and surface sanitizer, and calls it Flatten the Curve after the effort to prevent a spike in COVID-19 cases by promoting hand and surface cleaning, social distancing and quarantine.
Okanagan Spirits wins on world stage
The COVID-19 news cycle and hand sanitizer initiative have overshadowed the fact Okanagan Spirits was a big winner at last week's World Spirit Awards in Austria.
Distillers from Okanagan Spirits were initially scheduled to attend, but their trips were cancelled amid the novel coronavirus travel bans.
Despite not being there to pick up the hardware, Okanagan Spirits was designated a World Class Distillery and won a double-gold medal, eight gold, four silver and a bronze.
Hundreds of distilleries from 30 countries entered.
The double-gold was for Laird of Fintry Cask Strength Single Malt Whisky.